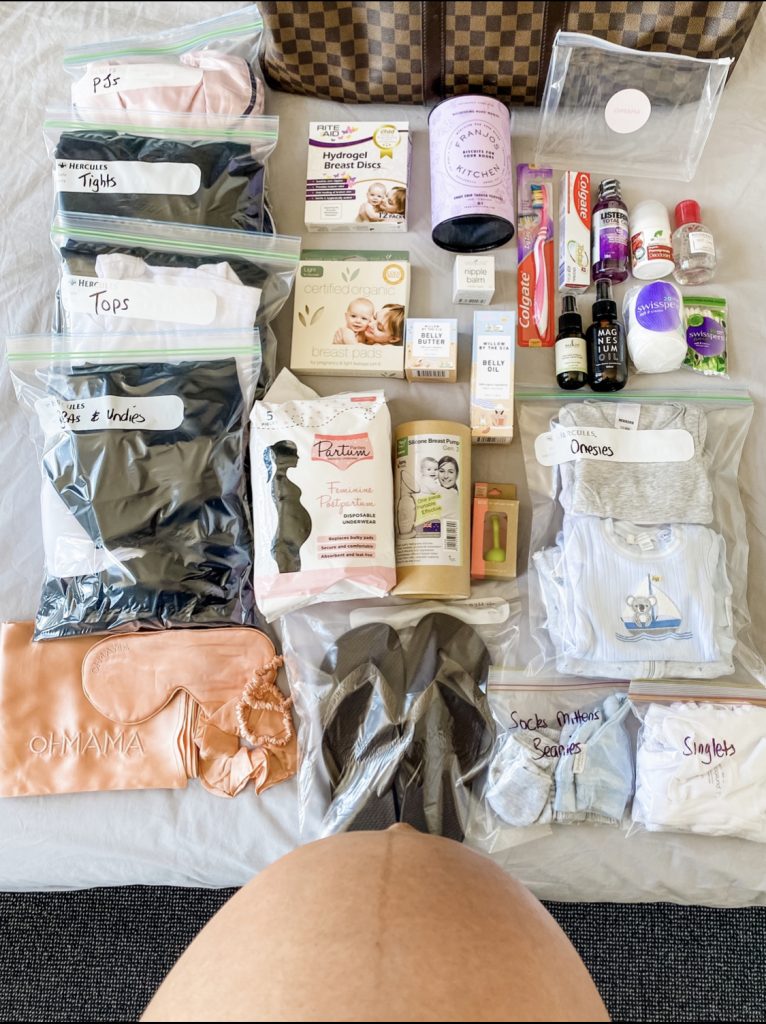 Packing your hospital bag can be daunting especially for the first time round as there are so many variables when it comes to birthing. You think you need everything but honestly you won't and you probably wont use half the things you've packed for the hospital and the last thing you want to do after birth is repack all the things to go home.
This is my third pregnancy and i think i have it down pat with only packing the essentials. (those that know me might be laughing at that statement… serial overpacker here) but truth be told i've learnt from the first time round when the car was so full hubby had to do two trips! Opps.
I will be having a planned cesarean but my bags are still packed well in advance. I suggest having your bag packed and in the car by around 33 weeks. This way you are prepared and not fretting if baby comes early. Also you are less mobile as your pregnancy gets on and it's not fun to shop for items when your feet are swollen, you are tired and waddling is your new walking.
Depending on the hospital, generally a vaginal delivery is 3 nights and cesarean is 5 nights. I don't pack for the full stay as hubby can take dirty clothes home and bring in fresh ones back if need be.
I sort and pack everything in individual storage bags and label them so that if i am unable to get them myself my husband or midwife can easily look for them without having to rummage through the bag not knowing what they're looking for.
Below is what i packed for me and you can view a live version on my instagram highlight @ohmamaau under hospital bag.
I hope my hospital bag brings you some inspiration to what is practical to bring when it's time for you to pack yours.
For MAMA
Oh Mama Pure Mulberry Silk set Eye mask to block out hospital light at night, scrunchies for the hair as you will not want it in your face and pillowcase to feel a little lux with the added beauty benefits (bonus) and saves from packing a whole pillow.
3x nursing bra & 3x grandma undies (hubby can bring some clean ones on day 4)
3 loose fitting tops (ones that easily to pull up for breastfeeding)
3 highwaisted leggings
2 sets of pyjamas
a pair of thongs (mainly for the shower as the floors never feel nice on the feet)
slip on shoes
robe/cardigan (hospitals can get really cold)
going home outfit
Hydrogel breast discs (these are great to sooth the nipples)
Nipple Shield
Hemorrhoid cream
Water bottle
long phone charger so you can plug it from the bed
Toiletries:  Toothbrush, toothpaste, mouthwash, facewash , bodywash, dry shampoo, Lip balm, Hair brush, deodorant, Basic make up & Maternity Pads.
For Baby
3 size 0000 singlets
1 size 0000 onesies
Going home outfit
Beanie
Dummy (optional)
2 burping cloths
2 swaddles
blanket
The hospital generally provides the nappies and dry wipes but check with the hospital beforehand otherwise nappies and wipes as well. The baby will mainly be in a nappy as you'll want to have all the skin to skin cuddles so he/she won't be needing much clothes and when you are not skin to skin they are swaddled up with a blanket on top. Make sure the car seat is installed.
For Daddy
change of clothes
pyjamas & toiletries if staying the night
General/other
snacks for daddy during labour for vaginal birth
snacks for mummy post cesarean – generally you can't eat until you have passed wind and this could be hours later well into the evening if its an afternoon birth. You'll be very hungry and thirsty and hospital kitchen or cafeteria will  be closed.
sibling gift if it's not your first.
Thanks for reading, i'm off to have a baby!